Ta3meed, the only Purchase Orders (PO) financing platform in Saudi Arabia has selected Moneythor as a strategic partner for its comprehensive digital banking & loyalty management platform to implement smart loyalty features in its innovative Islamic financing solution.
In line with Saudi Arabia's Vision 2030 efforts towards digital transformation, Ta3meed has deployed Moneythor's Personal Financial Management (PFM) and Loyalty solution to enhance its PO financing offering with a creative loyalty programme for better investment opportunities, rewards attribution techniques and highly personalised experiences for their customers.
The Moneythor solution is powered by real-time data, coupled with machine learning and behavioural science techniques to provide data-driven personalisation capabilities for digital financial management. In selecting Moneythor as its strategic partner to power its loyalty features, Ta3meed can lean into its customer-centric values and strengthen its digital engagement capabilities whilst reinforcing its position as a leader in PO Financing.
Mohamed Alomayyer, CEO and Co-Founder of Ta3meed said: "The partnership with Moneythor will give Ta3meed a competitive edge in enriching its PO Financing offer with smart loyalty features and personalised recommendations, which will be differentiated through innovation, customer experience and reliability."
Olivier Berthier, CEO and Co-Founder of Moneythor, commented: "We are thrilled to be a partner of Ta3meed. We look forward to delivering personalised customer-first digital experiences for their users with best-in-class loyalty services. We are excited to collaborate with such a forward-looking financial institution and to enrich their innovative Islamic PO financing capabilities for consumers & businesses in Saudi Arabia."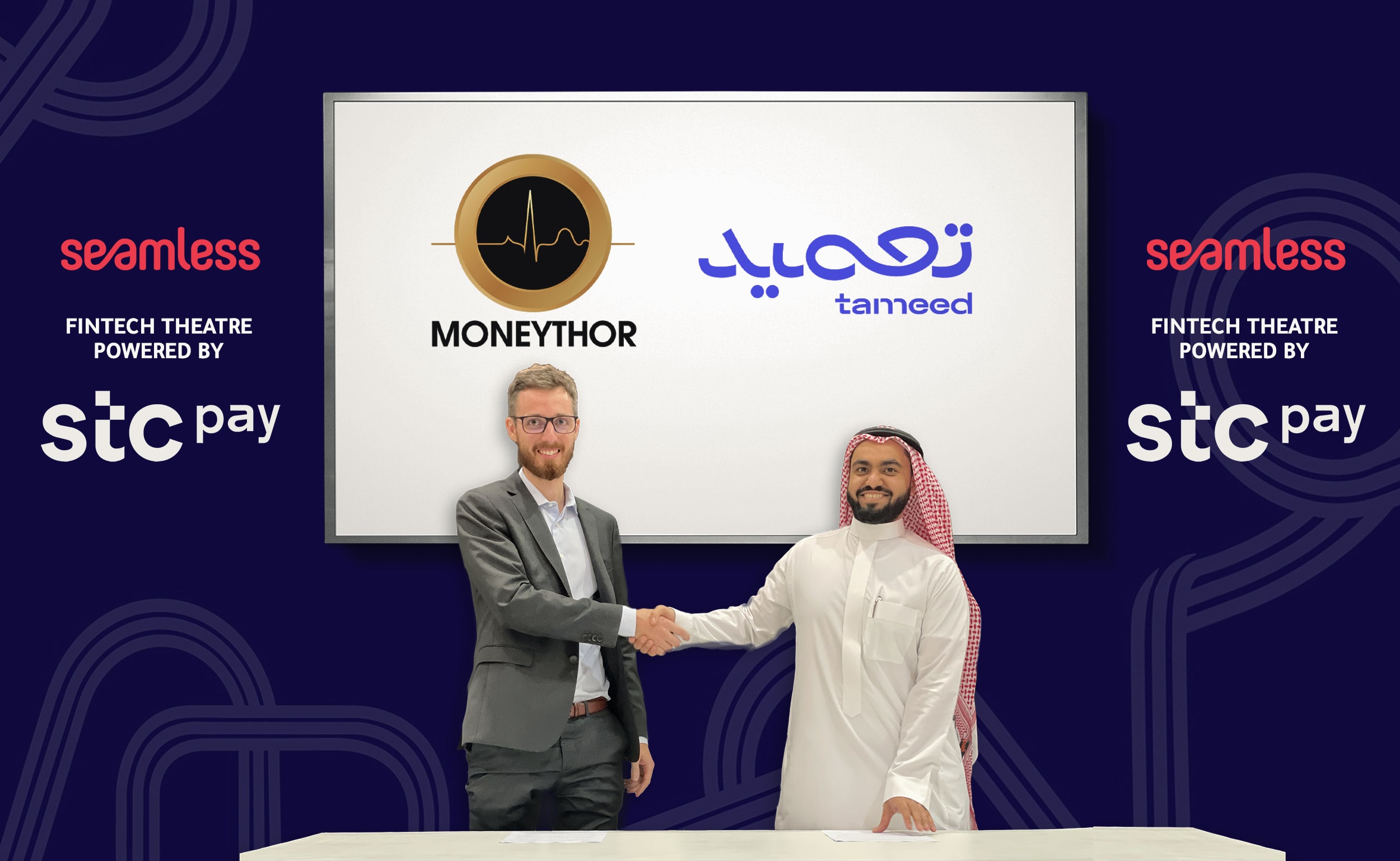 The partnership was recently presented at the Seamless Saudi Arabia 2022 conference by Ammar Alsinaidi, Chief Operating Officer, Ta3meed and David Sorreluz, Regional Sales Director, Moneythor.
—
About Ta3meed
Ta3meed, which means Purchase Order (PO) in Arabic, is the first Islamic fintech platform to provide PO financing in Saudi Arabia. The solution offers funding based on government-backed POs, connecting small and mid-market businesses seeking fast finance with peer-to-peer financing from investors who are looking for superior returns. Financing is managed by the highly secured Ta3meed Platform regulated and approved by the Saudi Central Bank (SAMA) under the Regulatory Sandbox.
About Moneythor
Moneythor is an award-winning software company providing financial institutions with a modern platform to enhance their digital services, with money management features powered by actionable insights, data-driven personalised recommendations enhanced with Open Banking and loyalty capabilities to drive high levels of engagement. The solution is a fully configurable platform and scalable orchestration engine that sits between data sources and customer channels to deliver highly personalised and engaging customer experiences in real-time.