Recent years have seen significant changes in the movement of people, goods, and even financial transactions as a result of the COVID-19 pandemic. The increased reliance on digital financial services have created an opportunity for the financial sector to develop rapidly and allow a growing number of challenger banks to start offering alternative digital-first services with a focus on improved user experience leveraging new techniques like gamification.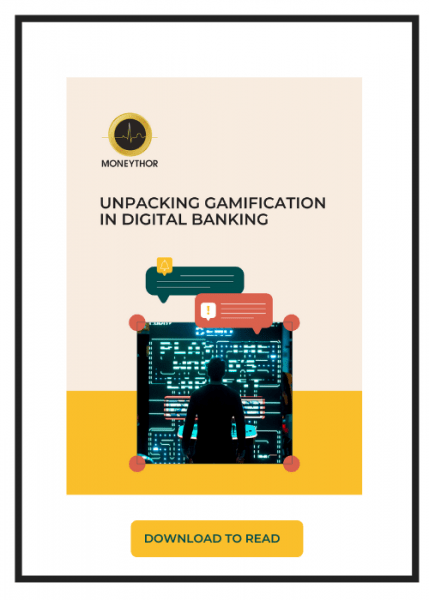 As technology develops and evolves with more digital banking options for customers, traditional banks and new entrants must find innovative ways to keep consumers interested and prevent them from moving away to competing services that could perhaps provide the same services with more engaging capabilities, which speak out to them more in their financial wellbeing journeys.
According to research on consumer habits by McKinsey, 75% of customers have experimented with different brands since the pandemic started, and digital banking applications are no different.
Making financial services engaging can be a challenging task, as personal financial management is often viewed as a stressful issue and a chore by many. The gamification of customers' experience with their finances is an interesting development to meet that challenge; it helps users engage with their financial institutions more effectively and turn routine or normally overwhelming financial tasks into a fun and rewarding activity.
How does gamification apply to digital banking?
For many users, banking can be seen as a serious or tedious activity. However, a novel way to keep consumers interested and involved in the experience is to gamify it. The gamification of digital banking activities aims to increase customer engagement while also delivering relevant financial wellbeing assistance as well as marketing content in a fun and interactive way. Gamification doesn't necessarily entail turning an entire app into a game (although mini games can certainly be embedded into it as illustrated in the examples below). Instead, by applying principles of gameplay, design elements and techniques, banks can deliver timely insights and personalised information in an engaging and even rewarding way. Financial institutions can also use game mechanics to deliver bespoke experiences and educate users about their product features and offerings.
While there are numerous gamification elements that can be employed, some of the more commonly used strategies in digital banking leverage points, leaderboards, challenges, and milestones. These gamification techniques are typically embedded into a banking app to motivate users, increase the customer loyalty and engagement for a bank's digital services while also creating an opportunity to encourage good financial habits in customers.
Top 10 gamification features for digital banking
Points
Points measure and reward progress. Earning points are a great instant feedback mechanism for users to signify an achievement, accomplishment or an upgrade in their journey.
Levels
Gamification cannot thrive without visible progress and achievement. Levels allow users to visualise where they are at in their journey and what they have yet to achieve.
Leaderboards
Leaderboards are a social gamification element that provide visual recognition to encourage progression. The social element that this technique presents cannot be overlooked.
Badges
When applied correctly, badges are a great visual tool that can be used to recognise achievement.
Progress Charts
Progress charts or bars are a common gamification technique, particularly when they can be shared publicly. Competition is a great way to keep users motivated.
Avatars
Avatars can be used as a way to enable customisation and allow users to decide how they present themselves online.
Quests
Longer journeys and quests can enhance feelings of success and achievement. This can be implemented by connecting several smaller challenges to a wider agenda.
Easter Eggs
Discovering 'easter eggs' within a game is always a welcome surprise and fun reward. However, it should act as a bonus instead of containing key information for users.
Polls
Polls are used to give users a voice and understand their needs and expectations. It is an easy way to collect data from users to understand what they need and to serve them with the right content.
Lottery
The only step a user is required to take in a game of lottery is to participate! Winning a lottery game element requires no effort from users, but a great way to reward them.
Many aspects of digital banking and personal finance can benefit from gamification. For example, the communication of financial literacy content can certainly be gamified to help users easily understand educational information that will help them on their financial planning journey. It can also help consumers understand and track their expenses and provide them with a more digestible way to consume personal financial management tools, tips, and insights.
For banks, gamification can also be used to support loyalty and rewards programs, and to create awareness around marketing campaigns. Not only does it create that multi touchpoint experience for customers, it also gives financial institutions an opportunity to analyse another dimension of customer behaviour and interaction patterns, and to gain deeper insights into the needs of individual users. Loyalty programs and the gamification of digital banking experiences go hand in hand to create a multi-touch experience for the end users.
While the benefits of gamified experiences to drive more digital engagement are clear, it should be considered that for some consumers, financial matters need to have an element of seriousness that the idea of gamification might detract from. More than in other industries and in full compliance with the regulatory framework they operate in, financial institutions need to find the delicate balance and ensure that the elements of banking that are gamified are the right ones and are delivered at the right time.
If applied correctly, gamification can transform the way consumers engage with digital banking apps, increase customer engagement, and strengthen the relationship they have with their banks, incumbents and challengers alike, without undermining the trustworthiness of the financial institution.
Which areas of digital banking can benefit from gamification?
PFM tools
Personal financial management (PFM) tools allow customers to visualise the ongoing progress they're making in keeping their expenses under control and tracking how much money they've contributed to their saving goals at any given time. The experience of traditional PFM features can be enhanced by tapping into the learnings from behavioural science theory to craft a more engaging narrative around daily financial management activities. As such, turning budgeting and saving into a fun activity can help users stay the path by fuelling the need for gratification with artefacts like visually seeing a progress bar of spare cash grow or leveling up in their savvy spender journey or being awarded a badge when a saving goal's milestone is achieved.
Purchase round ups
Savings features like rounding up purchases to the next dollar can be extremely useful for consumers who are less proactive as it helps them effortlessly save money with limited intentional effort, helping them bridge the gap between intent and action. For a consumer that might have a more lackadaisical approach to saving, purchase round ups automate the process and removes the need for them to make a conscious effort to save thus making it a lot easier to follow through.
While helping customers save by setting aside their spare change is already a fun way to demystify investing, services having popularised the concept like Acorns and Raiz can benefit from gamification features by leveraging other techniques to further enhance the customer's experience. For example, progress charts can be employed to track how much savings have been made by rounding up purchases each month. Alternatively, adding gamification elements like a lottery or leaderboards when users hit certain benchmarks in their savings journey can further enhance the experience.
Financial literacy
Many users might not understand concepts related directly to their finances like the impact of too much debt, how investments work, what interest rates are or how inflation might affect them directly. Therefore, when it comes to financial education, it is not enough for banks to make content and insights digitally accessible for users. Gamification elements can be used to make financial literacy engaging and to bridge the experience gap between the customers' aspirations and the content they are served within their digital banking apps, whilst encouraging them to form more sustainable, long term financial habits.
Interesting gamification techniques that can be utilised for financial knowledge sharing include levels, reward points and badges. When gifted information carrying such properties, customers can not only take ownership of their financial decision making, thus giving them choice, purpose and autonomy, but also experiment a sense of achievement and progress; all of which are psychological triggers that users crave for.
Gamification examples in digital banking
CIMB OctoChallenge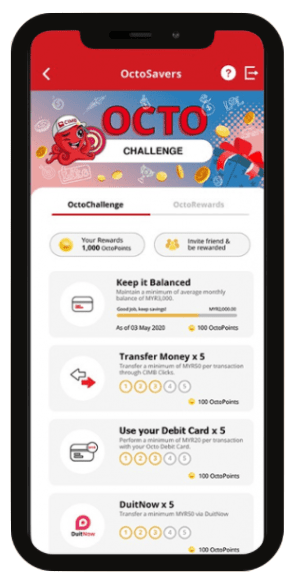 CIMB OctoSavers Account-i is Malaysia's first fully digital Islamic savings account. It offers users a fully digital experience and the opportunity to earn rewards and rebates instantly through challenges, amongst other things.
The convenience this account offers to both existing and new customers cannot be overlooked, especially during these periods of uncertainty and restricted movements; the entire account opening, onboarding and day-to-day management process takes place completely online. A notable feature of the product is OctoChallenge, a dynamic service embedded into CIMB's mobile banking app using points, progress charts and lottery elements while assigning interactive missions to users.
Customers' financial as well as digital activities with the platform are automatically turned into achievements giving access to vouchers from various popular e-commerce platforms. The gamification features are designed to significantly boost digital engagement for the bank's customers, and have proven to be highly effective.
Standard Chartered Bank – Twist & Win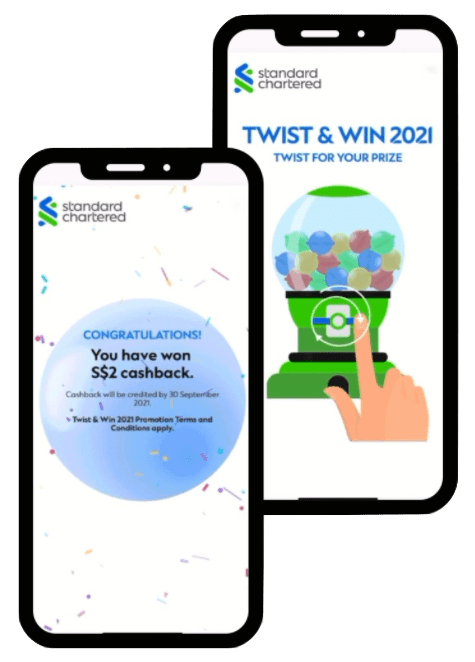 Twist & Win is a gamified campaign by Standard Chartered Bank that offers users chances to win surprise cashback for transactions made with their credit cards.
The gamified experience is fully integrated into the bank's mobile app, from the personalised onboarding of customers invited to participate in the campaign, all the way to the real-time assessment and random allocation of cashback for every eligible transaction delivered via an interactive animation with a fun in-app gumball machine. Standard Chartered Bank wanted to encourage its customers to use their credit cards and saw a notable uptake in customers' activities and expenditure during the promotional period.
Saving or spending quests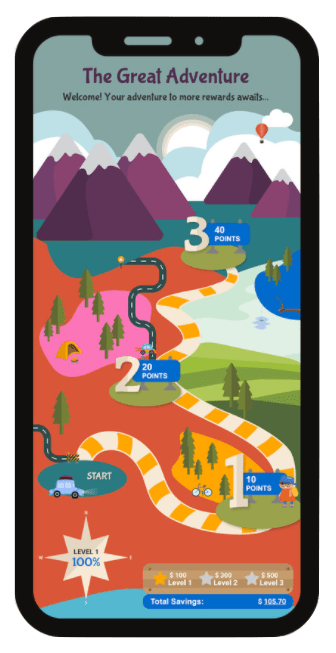 Other than the examples above, long running quests with objectives and milestones for users to achieve in boardgame-like visuals are becoming a popular approach aimed at increasing customer interaction and savings (or expenditure) with their financial institution over a longer period.
These programs, like the attached example taken from the Moneythor library of pre-built customer journeys focusing on motivating customers to increase their savings, will not reward customers on single transactions, but rather will be based on recurring trends and aggregated savings (or spend) with milestones and associated rewards along the way.
Each time customers reach a milestone, they can be rewarded with any of the benefits selected by the banks such as points, badges, merchant offers or cashback. Additionally, integrated engagement platforms like the Moneythor engine are also able to send ongoing reminders and personalised nudges to customers who have not been actively participating or are close to a given milestone, to reignite their interest.
Conclusion
Globally, we see financial services going through a significant digital transformation phase. Digital technologies help banks transform customer experiences, increase levels of profit, and even improve safety and regulatory practices. As digital banking takes the front seat in the way consumers interact with their financial institutions, gamification in banking helps focus the experience on customer centricity while enhancing overall digital banking experiences.
The biggest challenge banks face today with the application of gamification is customer perception and approval. Some consumers might still be hesitant to embrace gamified features as it could feel like a retraction of seriousness for financial matters. Therefore, the delivery of gamified features has to be considered carefully with account privacy and data security in mind.
A successful gamification strategy understands the role financial institutions play in their customers' lives today. Banks are no longer just a repository for customers where they stash their cash and keep their money safe.
Consumers today want their financial institutions to help them understand how to grow their wealth, educate them on financial topics in an interesting way and help them with managing their finances. Gamification techniques applied to spend tracking, debt reduction, saving and investing can help consumers reduce the effort required for them to create better financial habits and progress along their financial wellbeing journey.
If delivered correctly and with the right technology, tone of voice and respectful timeliness, the gamification of digital banking services and loyalty features can be a powerful add-on to any bank's digital strategy to understand its customers better and nurture a consumer base that will be more profitable and cost less to serve in the long run.
How can Moneythor help?
Moneythor offers an orchestration engine deployed between the financial institutions' systems of record and their digital channels to power engaging and tailored experiences for end users. With the Moneythor solution, banks and FinTech firms can enhance the digital experiences they offer with pre-built gamification features, while providing personalised insights, actionable recommendations and contextual nudges designed to deepen the relationship they have with their users.
In the deployment of their gamified digital banking services, the Moneythor solution can help:
Create interactive experiences around both spending and saving journeys with progress bars and fun celebrations of milestones.
Make customers' financial wellbeing journey more attractive with financial literacy tips delivered as polls or mini-games.
Boost customer activity and digital engagement by awarding points, rewards & vouchers along missions and objectives to achieve
And more!
Updated: 28 June 2022