Congratulations to CIMB Bank on a successful launch of OctoSavers Account-i, its first fully digital Islamic savings account in Malaysia!
Following several years of successful partnership with CIMB to enhance the Bank's digital services, our team is honoured to have also participated in the implementation of this innovative digital savings account leveraging the Moneythor solution's data-driven personalisation, digital engagement and loyalty features.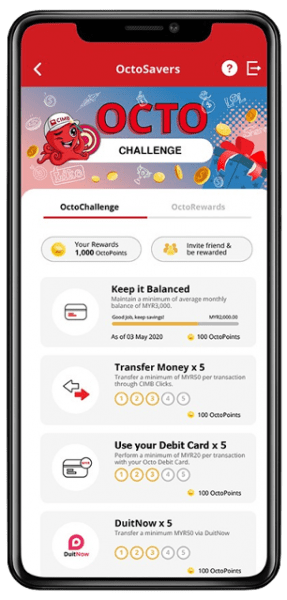 This new account offers users a complete digital experience with the opportunity to earn rewards and rebates instantly through challenges, as well as other benefits. It is curated for the convenience of new customers especially through this pandemic, as the entire account opening, onboarding and day-to-day management process happens online.
Among the notable features of the product is OctoChallenge, a dynamic service embedded into the CIMB Clicks mobile banking app using gamification and nudging techniques powered by Moneythor to assign interactive challenges and missions to customers.
Customers' activities and their digital engagement with the service are automatically rewarded with points which are used to redeem rewards and vouchers from various e-commerce platforms like Grab, Zalora, Lazada and others.
This feature is designed to significantly boost digital engagement for the Bank compared to traditional savings accounts.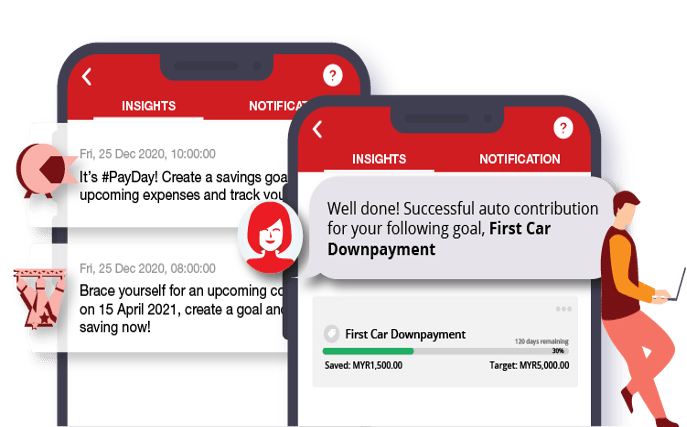 Another key benefit of the service implemented with the Moneythor solution is its Goals & Savings feature helping customers improve their finances by setting and tracking their goals.
Customers can set up different types of goals to work towards with the ability to perform both automated or manual contributions.
The service also provides customers with smart notifications to help them achieve their goals with personalised insights and nudges to encourage them to save more, congratulate them when reaching specific milestones or recommend ways to reach their objectives based on their unique spending and income patterns.
Financial wellbeing, loyalty and gamification features like the above are especially important for digital only financial services, as they increase engagement, reduce churn and creates highly personalised experiences for the Bank's customers.
Kudos to the CIMB team for leading the way with this digital product. It is an exciting time for financial services providers in ASEAN and the Moneythor team is looking forward to further creating seamless and engaging user experiences together.