Congratulations to DBS Hong Kong on a successful launch of DBS Card+, the new version of its real-time credit card companion app for its customers in Hong Kong.
The last 6 years have seen a thriving partnership between Moneythor and DBS, which has resulted in the implementation of several best-in-class personal financial management (PFM) features for the bank's digital users.
Building upon the innovations and success of the DBS Omni app which also leveraged the Moneythor platform to power money management and insights capabilities, the new DBS Card+ app offers users a real-time record of automatically categorised credit card transactions. It also nudges users when there is a personalised opportunity to earn rewards instantly amongst other engaging functionalities and is curated for the convenience of users who want to stay on top of their expenditure.
Among the outstanding features of the new app is the unified timeline view, which gives users a summary of their expenses in a feed. It consists of more than just a user's transaction history across all their cards, it is also embedded with contextual insights, recommendations, offers and money management notifications. Users can further personalise individual transactions by including annotations such as descriptions and photos with each expense, thus making the timeline a holistic overview of all their spend.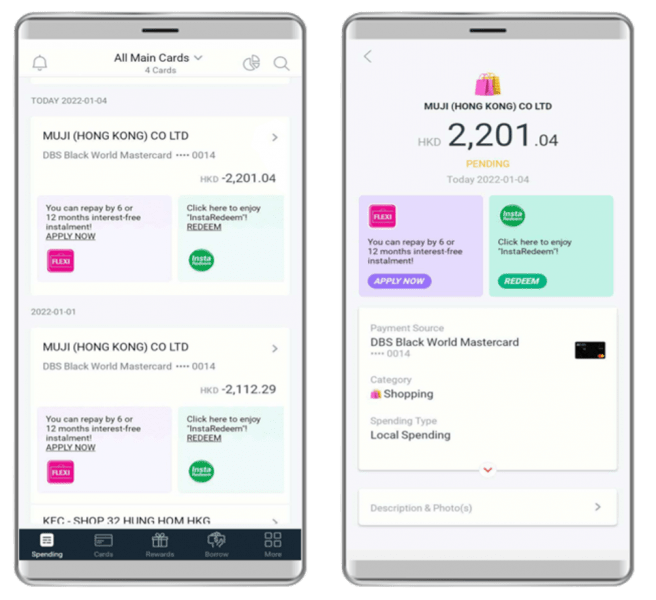 Additionally, the Insights feature provides a category-based perspective on their expenses for the last 6 months, allowing them to view top categories, averages and trends over time. The visual overviews display when budget thresholds have been reached, and personalised budget alerts are sent to users to update them along the way.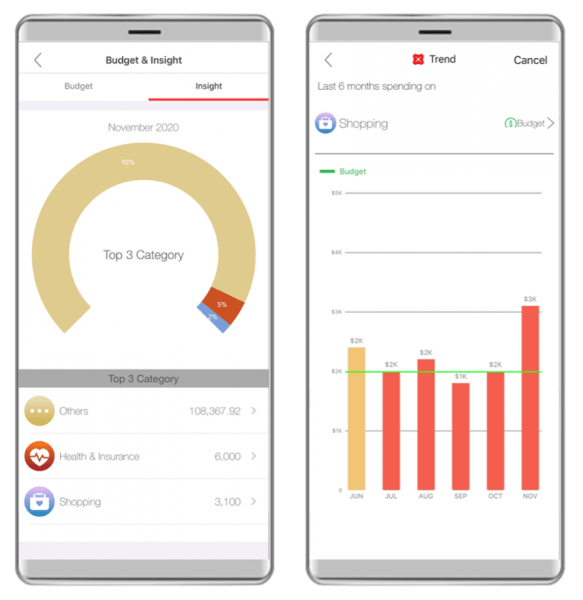 Another highlight available in the unified financial feed is the contextual engagement cards that users are served with. They include a multitude of use cases such as the "stamp cards" illustrated here which are highly personalised, merchant-agnostic loyalty campaigns rewarding customers when they use their cards regularly with a predefined merchants or categories. These long-running activity-based campaigns are powered by the Moneythor engine to motivate, incentivise and reward loyal customers in real time.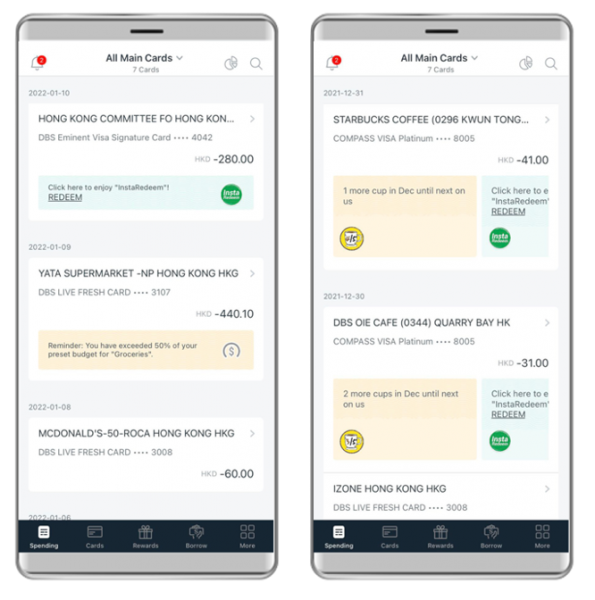 Such multi-step actionable personalisation programmes and financial wellbeing features are crucial for digital banking services, as they help with retaining high levels of engagement and create highly personalised experiences for consumers.
Hearty congratulations again to DBS Hong Kong to once more lead the way in blending digital engagement and credit card usage and enabling consumers to bank more seamlessly. And we look forward to the exciting features the bank has in store for the solution.