In recent years, financial institutions have come to the understanding that loyalty program features are no longer just a promotional method to get new customers through the door, but should in fact be a central part of the bank's relationship with the customer.
Consumers today expect to be rewarded for their loyalty and continued activity, and as such, customer loyalty programs and rewards in digital banking platforms are being used to provide a grounding to develop meaningful and trusted relationships between customers and banks, and even more so when it comes to digital-only financial services.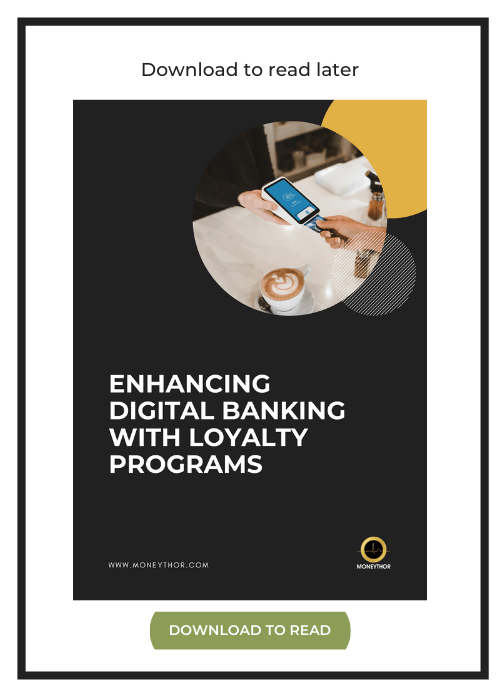 Gone are the days of cold, transactional exchanges between banks and their customers. Organisations working to grow a loyal customer base understand that an emotional connection is no longer a "nice to have" but rather a "need to have," and financial services are no exception.
Surveys have shown that 75 percent of consumers believe they would switch brands for a better loyalty program. The quality of the relationship consumers have with their banks will determine whether they stay, or look elsewhere to satisfy their financial needs.
Loyalty features not only build upon the relationship, but also allow banks to offer personalised communications, engaging promotions and relevant actionable offers to their customers. The lifetime value of a loyal customer base is higher, and they cost less to serve in the long run.
Open Banking as a catalyst
As a result of Open Banking, a strategic paradigm shift for financial services is in order. Open Banking aims to leverage technology and enable the delivery of digital financial services to be more flexible and efficient.
More importantly, Open Banking revolutionises the way data is being used in the financial sector. It allows for other entities or third party developers to access customers' data at other financial institutions with their consent, thus levelling the playing field for delivering innovative services which used to be constrained by inaccessible data sources.
Consumers are spoilt for choice with Open Banking more than ever before, over which platform they choose to adopt to manage their money. In this environment, banks and fin-tech firms must not miss the opportunity to leverage those new data assets to deliver superior value through their digital services.
Data has always been a core requirement in building customer loyalty in digital banking. It helps organisations understand consumer behaviour better, promote content specific to their needs and deliver superior value by the way of customer benefits. Whether they grant offers, points, vouchers, better interest rates on deposits or cheaper access to credit, to name a few of the emerging techniques used by financial institutions to reward their digitally engaged customers, loyalty programs can be made much more personalised when leveraging Open Banking data.
More than a customer retention strategy
Building customer loyalty in digital banking is not just a retention strategy for financial institutions. It also presents them with an opportunity to strengthen the relationship with their customers. The arrival of new digital banks, virtual banks and neobanks introduces stiffer competition, but it doesn't mean that consumers will dramatically reduce the number of institutions they bank with.
The consensus across global studies shows that each consumer is a customer of not one or two, but an average of five different financial services providers. While consumers are constantly on the lookout for better deals and pricing for financial products, banks can use loyalty program features to offer existing customers more value for the same products they might be considering elsewhere.
This appreciation of the customers' needs helps to build the relationship between providers and their customers, ensuring their financial needs are met whilst keeping them engaged, thus removing the need to look elsewhere.
What does a great loyalty program look like?
Loyalty programs have moved from being a welcomed bonus to an expectation for customers. They are shown to significantly impact the building of the brand-customer relationship and influence the decision making of a customer.
Beyond customer retention, a recent study showed that 73% of consumers are more likely to recommend a brand with a robust loyalty program. Social proof has shown successes in garnering interest from consumers, but a loyalty program has the potential to utilise robust channels of communication and outreach to not only strengthen, but shape and influence the trajectory of such relationships.
As with other industries and through other channels, a loyalty program applied to digital banking is a competitive strategy, and must be developed as such. It should be personalised to every user, provide dynamic responses and be able to serve customers with timely recommendations, aligned to their ongoing needs.
Rewards include incentives for referrals and expenditure, with cashback such as card-linked offers to drive usage of the customer's payment and/or credit products. However, digital financial services are not limited to these traditional forms of rewards already used by banks and issuers for years.
They can also promote customers' use of the financial institutions' digital channels and reward their level of digital engagement like the frequency of their online visits or the regular use of specific app features. A great loyalty program for digital banks should also aim to develop customer advocacy, allowing consumers to take ownership of their financial wellbeing and be as interactive as possible, to further strengthen their online relationship.
Points rewards system
How can financial institutions incentivise customers to not only make future purchases but also to use their digital bank more actively? A point rewards system for loyalty programs does just that, and encourages customers to come back for more. Not only do points help with customer retention in the long run, they also create opportunities to deliver a more fun experience and to promote adjacent financial or third-party products to the customer through redemptions by converting points into other physical or virtual benefits.
66% of customers say that a points system allowing them to earn rewards will actually change the way they use a product or service. Redeemable points have been proven to increase a customer's frequency of activities and encourage them to be more engaged with the service provider, reducing the need to seek out a competitor's alternative offer. Additionally, a points rewards system allows for greater flexibility as to what can be redeemed by customers. Offering a variety of redeemable rewards will ensure that there are ample options to keep everyone interested and satisfied, thus enhancing customer experience and generating long term loyalty.
Card-linked offers
Card-linked offers incentivise customers by linking eligible payment instruments (originally credit cards but now debit products as well as digital wallets too) and giving them access to a list of targeted offers for retail, dining, entertainment related activities and a growing number of digital products.
Data collected on spending patterns enables financial institutions to create personalised and measurable loyalty campaigns to incentivise customers as they spend. These offers linked to a payment mode allow for personalised, hassle free experiences for customers with often automated and immediate collection of rewards, especially relevant with digital commerce having become a mainstay in the way we purchase today.
Card-linked offers as a feature of loyalty programs are becoming increasingly popular, and is considered to be a new favourite marketing tool for businesses and digital banks alike.
Conclusion
A great loyalty program will not only help financial institutions retain customers, but help with increasing digital engagement, maximising relationships with customers and achieving sustainable growth. A well designed loyalty program for a digital bank will have various dynamic touchpoints, leverage the rich data made available via Open Banking and not limit its reach to rewarding usage of financial products but extend its value to rewarding digital engagement too.
Financial institutions of all sizes should consider cultivating a robust loyalty program tailored to their digital channels to attract and retain their valuable customers in an ever increasingly competitive market.
How can Moneythor help?
The Moneythor solution helps banks, issuers and fintech firms implement data-driven loyalty programs that increase engagement, reduce churn and create personalised experiences for their digital banking customers. With the Moneythor solution, financial institutions can manage the requirements of their real-time, digital loyalty programs and rewards campaigns.
In the deployment of such programs, Moneythor can help with:
Orchestrating the relationship between the financial institution's core systems and its customer-facing channels to deliver fully configurable loyalty features powered by recommendations, insights and nudges.
Configuring partners and merchants with an extensive set of properties.
Supporting multiple and concurrent types of points and virtual currencies.
Associating points with fully configurable redemption options.
Loading and configuring third-party rewards and vouchers delivered as QR codes, scratch cards or mini-games.
Managing end-to-end card-linked offers from targeted invitations to automated redemptions.
And more!

Updated: 4th August 2022.