The world looks a lot different in May 2020 than it did in May 2019. Due to the ongoing COVID-19 pandemic, the world has slowed and so have we. With airplanes grounded and mass work-from-home initiatives, carbon emissions have dropped for the first time in years and the earth may be benefitting. This is the "silver-lining" of the pandemic, but what happens when we return to some form of normality? How do we continue to protect the planet when we are back to normal consumption and travelling patterns? Before the pandemic happened, companies both inside and outside the financial services industry were already looking for ways to help their customers become more conscious about their individual impacts on climate change. While it is nearly impossible for the average person to become carbon-neutral, initiatives have emerged over the last few years to help customers track, reduce and offset their carbon footprint.
What does carbon footprint mean?
A person's carbon footprint is the amount of greenhouse gases, primarily carbon dioxide (CO2), that is released into the atmosphere as a result of their activity. It is calculated by adding together all of the emissions from every stage of a product lifecycle or lifetime, (production, transportation, use-phase and end-of-life disposal), during which greenhouse gases are emitted into the atmosphere accelerating climate change.
Some of the key sources of carbon emissions include:
Food – food accounts for 10-30% of a household's carbon footprint.
Fashion – because of the resources needed for production and the waste it generates.
Residential electricity
Personal transportation – automobile, air travel, rail transportation.
How can you track and offset your carbon footprint?
With so many sources of carbon emissions, working out a carbon footprint can be a complex process. How can we track every activity and assign the correct CO2 weight.
At Moneythor, we use transaction data to estimate a customer's carbon footprint. Our engine analyses and classifies transactions and then assigns an estimated CO2 weight for each category (e.g. air travel, electricity, clothing) or for speficifc merchants / billers. The CO2 weight, which is measured in kgs, is assigned in real-time and is based on the average amount of emissions created during the production and/or transportation of a good or service. These averages and the related emission factors are generally determined by local specialist environmental agencies which our clients work with to develop a holistic carbon-tracking tool. This transaction-based approach is arguably not perfect as it generally doesn't have access to full transaction details. For example, a single purchase at a retailer or e-commerce shop seen as a single transaction may include two products with very different CO2 impacts. However, it generally gives a fairly accurate estimate particularly when looking at trends.
The results of this tracking can be a simple overlay in CO2 kg equivalent to individual transactions shown within the mobile banking app's transaction history or it can be used to create personalised trigger-based messages. Examples of these types of notifications and insights available in the Moneythor solution include detecting and alerting a customer to an increase or decrease in carbon emissions based on their recent expenses, creating carbon footprint trackers which are similar to a traditional budget tracker but are based on CO2 emissions rather than on spending amounts, and providing incentives to customers through rewards and points programmes that customers receive when a reduction in carbon consumption has been detected.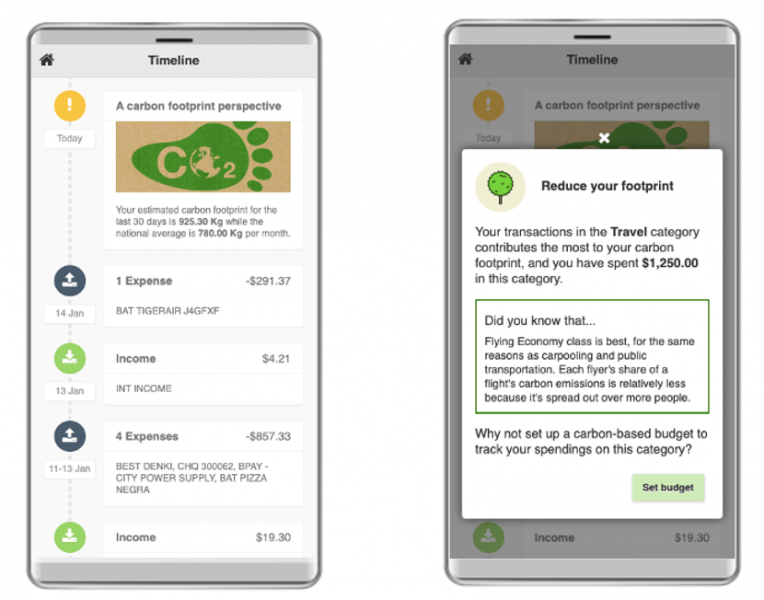 Example of Moneythor insights powered by CO2 weighted transaction data.

In reality, once the carbon emissions have been tracked and assigned their estimated weight, the possibilities for the content and insights produced within a bank's financial channels are endless. Various carbon offsetting programmes, peer benchmarking and gamification tools are some of the ways that we can apply these insights and help customer's to manage and reduce their carbon footprint.
When this pandemic ends and the world starts to look more like it once did, no doubt we will see a resurgence in carbon emissions. By providing customers with tools and initiatives that help them to lower their carbon footprint, we can support the environment when the new normal does emerge.